Playoff Game 1: … like the Jamaican Bobsled Team




Team looks to complete season on a high note with a strong showing in playoffs




By Andrew Wolan / WRCS

Game date: Sept 3, 2008


<!BR> Score Box

| | | | | | | | | | | | |
| --- | --- | --- | --- | --- | --- | --- | --- | --- | --- | --- | --- |
| Verdasys | 1 | 0 | 6 | 1 | 0 | 0 | 5 | | 13 | 23 | 1 |
| Mass Medical | 0 | 0 | 1 | 2 | 5 | 0 | 6 | | 14 | X | 1 |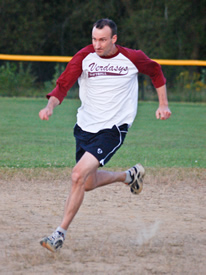 Grimard put on a show going 4 for 4 and collecting 6 RBIs (Moffitt)
Introduction
After a long and difficult season, the Verdasys Softball organization looks to close things up on a positive note with a solid performance in the playoffs. And despite holding a 1-6 record, it is good enough to qualify for the consolation tournament, or as Aleksey so affectionately called it, "The Losers' Tournament". This tournament of single elimination play will pit the division's bottom four teams in a battle for the lower half divisional supremacy.
But before the Verdasys Softball team can dream of a championship crown, they will need to first go through Mass Medical. As luck would have it, Mass Medical is the only team Verdasys Softball was able to defeat all season, winning comfortably 25-17. Will the team be able repeat their previous success over the M's and proceed to the finals?
Pre-Game News
On hand to observe the game was Nicole Kelly, who instituted a gag order against any photography. "We play better when there are no photographs" said Kelly. "Just watch." This was easy to enforce as team photographer, Richard Moffitt, was stuck in traffic and would not show-up until the fourth inning.
A serious concern before the game was whether team skipper, Andy Wolan, even be at this game? Rumors have been circulating that A-WOL would be traded to an unknown team in Japan. This rumor followed an announcement that Jerry Buote had been named the team's co-manager. The fear was obviously dumbfounded as Wolan would be at today's match-up.
Then there is the question of A-WOL's physical condition. In the team's previous match-up, Wolan injured his right foot on a controversial play at the plate. When asked about the injury, the team physician said the injury was not serious that Andy's foot felt "good enough" to play. To help deal with the pain, A-WOL will be aided with a new tight-fitted pair of cleats.
And if the injury was not enough, A-WOL would have to contend with a personal issue. Wolan comes into the match-up with a 1.000 slugging percentage and a .700 batting average. To retain those numbers, Wolan would need a perfect day at the plate. An insider reported that there was some discussion of putting A-WOL out of the line-up solely to retain those numbers. However Wolan rejected the suggestion, noting that Red Sox legend, Ted Williams, refused to sit out the last regular season game in 1941. As a result, Williams defended his .400 average, and so would he.
Game Summary
During the first inning, Verdasys would score first to take an early lead. Mike O'Connor and Ron Smith got the game going with singles. This set things up for Ryan Grimard who would bat in O'Conner, the team's hit leader with a single of this own, making it 1-0 good guys. A solid looking Verdasys defense would keep the M's off the board with a 1-3-4 inning.
Through the second inning, the score remained the same. Verdsys' offense would go down in 2-3-4 order, spoiling a Kelly Allen lead-off single. The defense would return the favor by nullifying a leadoff double and handing the M's a 2-3-4 inning of their own. Still 1-0 after two.
Grimard> 1-3-4 inning? 2-3-4 inning? There's no such thing.
Kim> Yah, but it makes sense. Please continue.

Verdasys would break the scoring stalemate in the third by rallying for 6 six runs. A-WOL got the inning going with a lead-off double in center field. He would score on a Colby RBI single. Following an O'Connor single, Smith and Huynh drove in Colby and O'Connor with RBI base hits of their own. Ryan Grimard capped the inning with a 3-run ITP HR, his second of the season, to give Verdasys a 7-0 lead.
Despite the gag order against in-game photography, an unknown player managed to sneak in this awful photo of Grimard crossing the plate. Did this unidentified player (A-WOL) just jinks the team?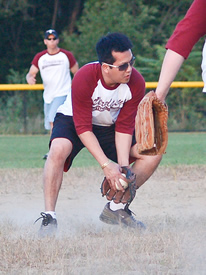 Smith and Allen look on as Huynh collects an infield ground ball (Moffitt)

Perhaps. Bottom of the third, the M's would finally get on the board to make it a 7-1 game. But Ron Smith ensured that would be all the M's would get thanks to a running catch from center field of a flair hit into shallow right field.

Verdasys would get that run back in the top half of the fourth after A-WOL capitalized on a Darrell Teague lead-off double with a two-out RBI single. After Eno singled, Wolan failed to score from second on a Mike OConnor outfield single on a move that yielded some criticism from the bench. "For whatever reason, I just hesitated," said Andy. "My cleats gave way the last time I rounded third. I guess I subconsciously choose not to chance it."

The M's responded by scoring twice in their half of the fourth, making it a 7-3 game after four.

The number five did not appear to be Verdasys' number as the fifth inning belonged to Mass Medical. After blanking the Verdasys offense through five batters, the M's rallied for five runs and tied the game 8-all. The M's offensive revolt came courtesy of many well placed hits. "They just keep hitting the ball where they had to" commented A-WOL, "sometimes through the 5-6 gap."

With the score tied, the sixth inning presented an excellent opportunity for either team to take the lead going into the seventh. However, neither team capitalized, as both teams went down in 1-2-3 order. (There, I used the classic form of that expression. Happy?) This game would undoubtedly go down to the wire.

A-WOL's Folly


Leading off for Verdasys in the seventh was A-WOL, who hits a soft grounder between first and second. On a play that should have given A-WOL an easy infield base hit due to his speed, A-WOL instead tripped and fell to the ground. Apparently as Andy stepped out of the batter's box, he lost his footing, causing him to fall face forward into the dirt. And as Wolan fell, he let out an obscenity realizing that after coming so close to retaining a 1.000 slugging and .700 batting averages, he would fail due to a freak slip-up.

Not content with accepting defeat until the play was officially over, A-WOL got up quickly as he could and made a dash to first. As luck would have it, the fielder was unable to handle the ball, allowing Andy to easily advance to first. In fact, Andy had so much time that he choose to stop on the first base bag instead of running through it as usual.

"Always run through the bag" commented Grimard. This comment came after A-WOL made a similar comment to Darrell Teague in the previous inning for stopping short of the bag on a close play at first.

"The trajectory of the ball had it coming straight for my head" said Teague. "If I didn't stop, there was a good chance I would have been hit. I don't want to get killed playing softball!"

Down to the Wire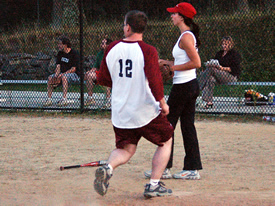 OConner scores on a Grimard triple (Moffitt)
Next up was Elliot Eno, who seemed to have rediscovered his swing and connected for his second single of the game. Mike O'Connor followed suit by batting A-WOL home with an RBI single, his team leading 24th base hit. After Cornwall and Smith were unable to make anything of their at-bats, Ryan Huynh was able to connect for a single to drive home Eno. Grimard would follow with RBIs #5 and #6 of the day with a 2-RBI triple. Not to be outdone, Jerry Buote connected for an RBI double to score Grimard to make it a 13-8 game. Allen would ground out to end the inning.
And so to the bottom of the seventh we went. With just three outs to go and the Verdasys Softball club opening a comfortable 5-run lead, a date with the finals was looking favorable. However, the M's had one factor in their favor: dusk. With the autumn equinox just a few weeks away, early evening daylight conditions at this time of year were no longer what they used to be. Thus, the Verdasys defense would have to contend with rapidly deteriorating lighting conditions.
The M's took advantage of the rapidly degrading lighting conditions by slipping many balls through the infield and hitting into gaps in the left field. Two Mass Medical base runners crossed the plate before Ryan Huynh could record the first out with a line-drive snag at short. After the M's loaded the bases, and with a left-field hitting batter at the plate, the team skipper felt a move needed to be made.
"Since many balls were getting hit into left field, and with such a hitter at the plate, I felt it would be best to strengthen our coverage of left field. I moved Grimard to play deep felt field and Eno to shallow and moved Smith from center-right to center-left. I would cover right field in case any balls were hit in that area."
However, the move did not pay off as the batter pulled the ball into a gap between right and center field. Since A-WOL got a bad jump on ball, the hit had the potential of being a base-loaded clearing hit. The best A-WOL could do was prevent the ITP HR and the winning run from scoring.
With the score tied, the next batter hit a ground ball to Huynh at short. Since Huynh was mistakenly informed by the M's that there were two outs, he would mistakenly throw-out the runner at first and allow the M's to score the winning run on a 6-3 RBI sacrifice play for the win.
And so, just like the Jamaican bobsled team in "Cool Runnings", the team's seemingly certain gold medal run at the end of the contest was spoiled. A miscalculation at the end turned the situation up on its head and ended Verdasys' dream of reaching the finals with a 14-13 loss.
Postgame Show
In the WEEI post-game show, a Howard Cosell impersonator interviewed the team and snagged an audio recording of a candied Verdasys Softball clubhouse.
"I am happy to say it was well fought, hard battle," said newly appointed co-team manager Jerry Buote, "everybody here [played] proud and the effort was definitely [strong]. I want to see everyone back here after spring training next season."
Darrell Teague summed the clubhouse mood by declaring that the game was "a lot of fun... that was the most important thing." As for the game's outcome, a very energetic Teague said it was "very dramatic," adding "we were up by five, then they tied it [and won]... very dramatic."
When asked if the team was disappointed that Mike O'Conner did not fall down once during the game, Teague mentioned that "… surprisingly, there were no on field acrobatics from Mike whatsoever. We were very disappointed."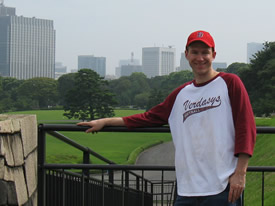 A-WOL was shipped to Japan following the game (Wolan)
In fact, the only person that slipped and fell on the field was A-WOL, who was forced to defend himself. "I slipped and fell twice in the game: once rounding third base in the third inning and the other stepping out of the batter's box in the seventh. I think the new cleats are not wide enough, meaning I don't have the stability and sure footedness I am use to. I'll need to pick-up a better pair in the off season." Wolan recounted.
A-WOL later added that he was proud of his successful defense of his batting statistics milestone. "Coming into today's game, I had a 1.000 slugging percentage and a .700 batting average. I needed to hit safely in all of my at bats to preserve those numbers and I did. The only time I thought I would not do it was when I fell in the seventh. I guess that was the reason why I was able to recover so quickly and get on base regardless."
At the end of the show, the Verdasys Softball organization announced that team skipper Andy Wolan had been traded to a team in Japan. Details were not discussed, but what we do know is that Andy was scheduled to fly out to Tokyo in the morning. Neither the team nor Wolan had any comments.
Web Gems
Smith: running catch of a ball hit into shallow right field. (3rd)
Huynh: line-drive snag at short.
Team: 5 two-run of less innings, including 3 shut-out innings.
Big Bats
Grimard: 4 for 4 (3B, ITP HR) with 6 RBIs and 2 runs scored. Hit second homerun of season and missed the cycle by a double.
Mike OConner: 4 for 4 with an RBI and 3 runs scored. Collected team leading 24th base hit. Has season long hitting streak.
A-WOL: 3 for 3 with an RBI and 2 runs scored. Has season long hitting streak.
Huynh: 2 for 4 with 2 RBIs and 2 runs scored.
Game Photos | Postgame Audio | Stats from the Game | Scorebook