Summary of Top Player Stats for 2008
Posted: 12-11-2008 02:31
By Andrew Wolan / WRCS
Batting stats:
Most games: A-WOL / Elliot Eno / Mike O'Connor (8)

Best Batting Avg (male): O'Connor (0.857), Grimard (0.824)
Best Batting Avg (female): Reynolds(0.455), Nicole (0.364)

Best Slugging % (male): Muldon (1.538), Grimard (1.471)
Best Slugging % (female): Reynolds (0.455), Cornwall (0.409)

Most at bats (male): O'Connor (28), Huynh (24)
Most at bats (female): Cornwall (22), Allen (16)
Most hits (male): O'Connor (24), A-WOL (17),
Most hits (female): Cornwall (7), Allen/Reynolds (5)

Most runs scored (male): OConner (12), Huynh (10)
Most runs scored (female): Cornwall/Colby(4)
Most RBIs (male): Grimard (16), Smith (10)
Most RBIs (female): Cornwall/Raymond (3)

Most HR: Grimard (2), A-WOL(1)
Most 3B (male): Smith (2)
Most 3B (female): None
Most 2B (male): Muldoon (8)
Most 2B (female): Cornwall (2), Infanti (1)
Most SAC (male): Smith (3)
Most SAC (female): Infanti (3)

Miscellaneous stats:
Runs per at-bat: 0.270
Falls on field: O'Connor (5), A-WOL (2)
Number of words written for website: 22,000
Number of photos taken and processed: 1,000+
O'Connor and A-WOL both ended the season with season-long hitting streaks.


Tournament Wrap-up
Posted: 09-11-2008 20:01
By Andrew Wolan / WRCS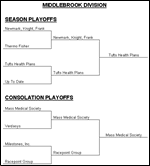 After a long and difficult season, the Verdasys Softball organization will look to end the season on an up note with a solid performance in the playoffs. Round one pitted Verdasys up against Mass Medical, the only team which Verdasys was able to defeat in the regular season.

Verdasys would start off strong in this contest; Ryan Grimard hit a 3-run ITP HR to help give the team an early 7-1 advantage. Strong defense kept the M's offense in check in the early going as well. But the M's would rally back, tying the game 8-all after five. The score remained that way through the sixth, as the game would ultimately be decided in the final inning. Verdasys would rally for 5-innings in their half of the inning, but it would not be enough as the M's would rally back for 6 runs to win 14-13.

In other playoff news, RacePoint beat Milestones to advance to the finals but would fall to Mass Medical for the Consolation Tournament crown. In the Championship Tournament, both Newman and Tuffs would both advance, but Tuffs would upset the Dominican All-stars and the rest of the Newman Knight & Frank team for the crown.

(Click here to view playoff brackets.)

A-WOL Traded to Japan
Posted: 09-05-2008 18:32
By Andrew Wolan / WRCS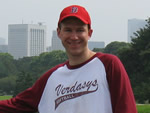 The Verdasys Softball organization has announced that team skipper Andy Wolan has been traded to the Tokyo Yakult Swallows baseball organization in an undisclosed deal. This announcement was made shortly after the team's 14-13 lose to Mass Medical in the playoffs.

Rumors had been swirling that a trade deal was in the works following a team announcement that named Jerry Buote team co-manager. While the team had no comment on the rumors, an anonymous source told the writing staff that the deal had been works for some time. In addition, the actual trade date was delayed as much as possible to allow AWOL to coach the team in the playoffs. Wolan was seen departing for Japan the morning after the game, leading many to suspect that the announcement was emanate, win or lose.

A-WOL's role with the Swallows is uncertain, but is expected be play a managerial part in the team's push for the playoffs. A photo of Wolan in Tokyo wearing Verdasys attire was released after he landed overseas.


Buote Named Team Co-manager; Efimov Joins Photography Core
Posted: 08-30-2008 20:07
By Andrew Wolan / WRCS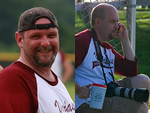 The Verdasys Softball organization has named Jerry Buote co-manager of the team. Both he and A-WOL will be co-managing the team in the upcoming 2008 playoffs. The reasons behind this move are unknown, but rumors are circulating that coach A-WOL will be traded to a team in Japan.

In addition, Russian sports photographer Michael Elimov has quietly joined the photography core. He has accompanied Richard Moffitt with photography duties since game 4. Efimov's past photography experience is unknown, but some have speculated that he once worked as a spy photographer for the KGB.


Team Qualifies for Consolation Tournament
Posted: 08-18-2008 21:11
By Andrew Wolan / WRCS
As the season come to a close, the league's teams set their sights on the playoffs. Today, the league has announced the structure of this year's playoffs. The top 4 teams it each division will play in the "Divisional Tournament". The remaining teams in each division will play in the "Consolation Tournament". (Or, as Aleksey so affectionately calls it "The Losers Tournament".) The tournament is single elimination.

This year, the Verdasys Softball team's record of 1-6 is good enough to qualify the team for the "Middlebrook Division Consolation Tournament". The team's first game will be against the only team Verdasys has defeated: Mass Medical Society. This game will be held on Wednesday Sept 3rd. (Raindate Sept 8th.) If the team wins this semi-final show-down, then it's off to the finals against the winner of Milestones vs. Racepoint Group on Wednesday Sept. 10th.

Fans can catch every Verdasys Softball playoff game on TV38-WSBK.

To view an image of the Middlebrook Division Consolation Tournament playoff bracket, click here.

Make-Up Schedule
Posted: 08-06-2008 00:42
By Andrew Wolan / WRCS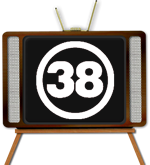 The completion of Game 7 marks the scheduled end of the regular season. However, three of these games were rained out and will need to be made-up. Below is the make-up schedule:

Game 8: Aug 13 @ 6pm - Newmark, Knight, Frank
Game 9: Aug. 18 @ 6pm - Tufts Health Plan Corp
Game 10: Aug 20 @ 6pm - Thermo Fisher Scientific

Fans will be able to watch the make-up games LIVE on WSBK TV38 starting 30 minutes before game time. Post-game coverage immediately following the game.


Injury Update
Posted: 08-03-2008 23:29
By Andrew Wolan / WRCS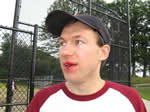 Per league regulation, the Verdasys Softball organization has released an injury report on several of its players.

The report starts with a shocking report that Elizabeth Cornwall, who was reported as being out for the season, will be available to play Monday in Game 7. It turns out that Elizabeth did not break her ankle, but instead chipped a bone. According to the report, the fragment is small and might have been the result of a previous injury. Elizabeth still has a level 2 ankle sprain to contend with, but it is able to deal with it thanks to an ankle restraint.

The injury Kim Reynolds suffered in game 6 after being knocked down trying to score at home plate was more severe than originally reported. When Kim hit the ground, her left knee made contact with the dirt. The next day, the knee was swollen. The pain from the inflammation eventually became so bad that she was unable to walk on Saturday. Because of the injury, she will be unable to participate in Game 7. However, there is a chance she may recover in time to play in Game 8.

Team DH Mike O'Connor is cleared for Game 7. As you may recall, Mike was hit by a line-drive while pitching in Game 6. He has since recovered and is ready for the next game.

Darrell Teague is listed as day-to-day following a torn quad muscle suffered in game 6. It is believed that the injury occurred while scrambling to cover home plate on a play.

Finally, team skipper A-WOL was listed as "fit to play" for Game 7. A-WOL was hit in the face by a ground ball after the ball was defected off the foot of Ryan Huynh.

Mysteriously, a report on the condition of Ron Smith was NOT provided. Ron was hit by a line-drive while pitching during batting and fielding practice.

UPDATE:
Jerry Buote is listed as day-to-day after spraining the quad muscles in both legs in Game 7. It is believed that he was injured either running to first or circling the bases.

Team steps-up to collect first win of the season
Posted: 08-01-2008 18:24
By Andrew Wolan / WRCS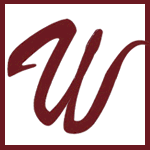 The Verdasys Softball 2008 season has been unfruitful thus far. Mother Nature rained-out three of the team's first five games, include the previous game. The two games the team did play were competitive and close, but the team was unable claim the win in the end.

Facing an extended regular season, winless and with the threat of game-time showers for today's game, things were looking gray for the team. That is why team skipper Andy Wolan put out a rally call in the clubhouse for the team to claim a long overdue first win of the season.

And the team responded. Verdasys would score a team high 25 runs off of 39 hits. Nearly every player had at least one base hit and a run scored. Kim Reynolds, who was sick at game time, found enough strength to participate in the game, earning her "player of the game" honors by going 4 for 4 and continuing to play after a rough play at home plate. In all, Verdasys would cruise to a 25-17 victory over Mass Medical Society for their first win of the season.


Team Acquires Colby from South Africa
Posted: 07-28-2008 12:02
By Andrew Wolan / WRCS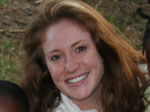 The Cape Town Post is reporting that the Verdasys Softball organization have acquired former Cape Town Fynbos infielder prospect Colby. This deal comes shortly after the announcement that star infielder Elizabeth Cornwell would be out for the season due to an injury sustained in Game 4. The team is hoping to use the spunky infielder prospect to fill a void caused by Liz's absence.

Colby had called for a press conference later that day to discuss the deal, but failed to show-up. According to her agent, she had mistakenly booked a manicure appointment at the same time and could not attend. Will Waltham soon be chanting "That's Colby being Colby"?

Colby is expected to play in the club's next game on Thursday.

Battle for Wyman Street Supremacy
Posted: 07-20-2008 23:57
By Andrew Wolan / WRCS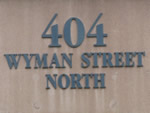 The winner of team's next game will take home more than just a win. Game 5 of the club's regular season will be for Wyman Street bragging rights as Exit 28-end Verdasys Softball club goes up against Exit 27-end Thermal Fisher.

"To us, it's just a normal game" comment team skipper Andy Wolan. "But it would be nice to win." Verdasys Softball will also be after their first win of the season.

Elizabeth Out for Season Due to Ankle Fracture
Posted: 07-18-2008 20:30
By Andrew Wolan / WRCS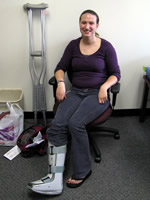 In a press conference Friday afternoon, the Verdasys Softball organization announced that Elizabeth Cornwall would be out for the remainder of the 2008 season. In the team's last game, Elizabeth fractured her right ankle on a slide to second base. It is believed that Elizabeth's right ankle landed on the bag itself, putting the leg in an awkward position and leading to the fracture.

"As I was running to second, I was thinking to myself 'should I slide or should I not slide?' I choose to slide a little too late and landed on my right ankle in an awkward position."

When asked if she felt any pain after the slide, she said her ankle felt sore, but she was able to jump on it immediately afterwards. Elizabeth dismissed the pain as a strain and kept playing. In fact, Elizabeth reports running home on that bad ankle after the game. She did not realize the seriousness of the injury until the next day when her ankle was swollen. X-ray images confirmed that she had in fact fractured her ankle.

This is the second time Elizabeth has fracture her right ankle. The prior time was on a similar play two years ago playing softball for BC.

When asked about the injury and he absence from the season, her mother's response was that Elizabeth should toughen-up. "She can still play. Can't she play catcher?" Liz did make a concession to play on an "emergency-only" basis.

"Her injury was most unfortunate, and her absence from the team will be felt" said team skipper A-WOL. "The team wishes her a speedy recovery". Elizabeth ends the season 3 for 6 (2B) with 2 RBIs and 2 run scored. She was also one of the team's starting infielders.


Team Drops Season Opener; "Psyched" for Next Game
Posted: 07-14-2008 20:14
By Andrew Wolan / WRCS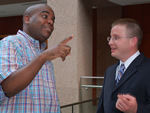 After having their first two games postponed due to rain, the Verdasys Softball team finally got their season underway against "Up To Date". Despite not having a single game or practice session at the 1/3 mark of the season, the club managed to keep the contest close for the duration of the game. This was aided by some great heads-up defensive plays and the flash of the leather by Ryan H. Offensively, Ryan G. and A-WOL hit ITP HRs to help keep the score close. But it would not be enough as the team fell in their season opener 18-14.

Despite the lose, the clubhouse is anxious to play their next game. "I'm psyched!" said Nicole Kelly when asked Game 4. "I can't wait!" Darrell Teague expressed similar enthusiasm, stating "I am looking forward to our next game."

Even the fans were excited about the next game. On Monday, Mike O'Connor held a prep-rally inside the Forefront Center to small crowd of on-looker. "I wish I could play" said sports fan Peter Ephriam. "It looks like fun." Jessica Katz, another fan, stated she would make the effort to attend the next game and cheer the team on.

In other team news, the club announced today that Ivy Casavant and Mike Flouton have left the team. According to the press release, they left because they would be unable to commit time to the team this season.

Dante Sidelined with Wrist Injury
Posted: 07-07-2008 11:24
By Andrew Wolan / WRCS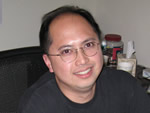 The Verdasys Softball organization has announced that outfield prospect Dante Dacayanan will be out for most for the 2008 season due to injury. This stems from an incident at practice last week where Dante injured the wrist on his throwing hand fielding ground balls. According to the team physician, the injury is not severe but will require Dante to restrain from applying physical stress on the wrist to let it heal. The physician expects Dante to be in this constrained state for several weeks, spanning the entire 2008 season.

When asked if the injury would be enough to sideline him for the season, Dante had this say: "If I can tough it out, I will try and play with the team later on in the season. It may require that I ice the wrist after the game, but I'll give it try."


Richard Moffitt Joins writing staff as Team Photographer
Posted: 06-24-2008 20:00
By Andrew Wolan / WRCS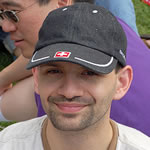 The writing staff is pleased to announce the signing of veteran sports photographer Richard Moffitt. With over a decade of experience, Richard's resume include coverage of the 2007 and 2008 National Synchronized Skating Championships in Denver, CO and Providence, RI. He has also made numerous freelance contributions to various Boston-area publications, including the Boston College Heights newspaper and the Allston-Brighton Tab .

Armed with an arsenal of digital still photography hardware and numerous photo-editing tools, the staff anticipates a huge boast in photography quality. "This is terrific" said lead team writer Andy Wolan. "At last: no more blurry photos!"

A-WOL & Co. Reach Deal with Verdasys Softball
Posted: 06-16-2008 21:48
By Andrew Wolan / WRCS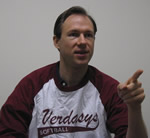 The Verdasys Softball club held a press conference this afternoon to announced that they have reached an agreement with team manager prospect Andrew Wolan (AKA "A-WOL".) Under the agreement, Andy will join the team as both team skipper and offensive pitcher. In addition, Andy and his fabled "writing staff" will setup shop in Waltham to cover the team's 2008 season.

This season will be Andy's third as team manager. His previous two seasons were for the "Avengers" organization back in 2004 and 2005. Pitching wise, A-WOL has five years of experience pitching at the co-ed softball level.

As for Andy's fabled "writing staff", this will be their fifth season covering a co-ed softball team. The staff, whose members remain a mystery, is known for their objective game analysis, excellent statistics collection, candid photography and above all full season coverage of their chosen team. A listing of the staff's previous work can be found under the Softball Stories section of the site.

A transcript of the "questions and answers" session following the press conference can be found here.

Team Unveils Official T-Shirt
Posted: 05-17-2008 20:01
By Andrew Wolan / WRCS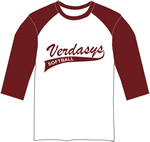 At a press conference this afternoon, team captain Audrey Markoff unveiled the official team t-shirt for the 2008 season. As can be seen in the photo to the right, the shirts sport the Verdasys, Inc burgundy and white color scheme with team name in a baseball-themed graphic.

The team will debut the new look at the start of the season. Fans can obtain their very own official Verdasys Softball t-shirt by contacting Audrey directly.

Verdasys Forms Co-Ed Softball Team; Audrey Named Team Captain
Posted: 04-30-2008 20:01
By Andrew Wolan / WRCS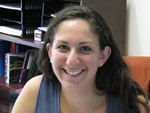 Today, Verdasys, Inc is proud to announce that they will be forming a co-ed softball team for play in the 2008 summer season. Applicably named "Verdasys Softball", the team will play in the growing Waltham Recreational Co-Ed Softball League (WRCS) in Waltham, MA. The team will be Verdasys' inaugural softball club.

The WRCS league is listed as a "non-competitive and recreational," with a heavy emphasis on "for fun". These factors are reinforced by the unique elements of the league, including the lack of umpires, offensive pitchers, and a "4-pitches and your out" rule. The league is run by the city of Waltham's "Parks and Recreation" department and is entering their 20th season.

In addition, the team named Audrey Markoff as team captain. This will be Audrey's first season as captain of a co-ed softball team. Her previous experience includes ??

As for a team manager, the club announced that they will be accepting applications and will make a selection in the coming weeks.