Game 9: Founders Days Match-up




Rough inning keeps win at bay




By Andrew Wolan / WRCS

Game date: Aug 18, 2008


<!BR> Score Box

| | | | | | | | | | | | |
| --- | --- | --- | --- | --- | --- | --- | --- | --- | --- | --- | --- |
| Verdasys | 0 | 1 | 5 | 1 | 0 | 0 | 0 | | 7 | 18 | 0 |
| Tuffs Health Plan Corp | 3 | 11 | 0 | 2 | 0 | 0 | X | | 16 | X | 0 |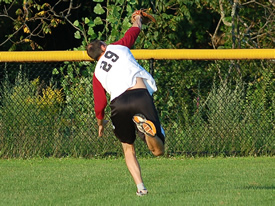 Grimard with a dazzling behind the head snag in left field to end the first inning (Moffitt)
Introduction
In game 8, the Verdasys Softball team suffered a crushing defeat at the hands of the undefeated Dominican All-star team. Today, the team has their sights on snapping a two game losing streak as they go up against Tufts Health Plan Corp. Tufts, one of the league's charter members, would like nothing more than to hand Verdasys another 'L'. But Verdasys will not take this matter sitting down as the team will field a strong emerging defensive core. Will this be enough for the win, or will the team move to 1-5?
Game Summary
First inning, tragedy strikes. With Mike OConnor on first, Ron Smith steps up to the plate and hits an infield ground ball to short. With Mike O. running on the play, he is able to bolt across second base and beat the throw. Unfortunately, he also falls onto the ground after crossing the bag, making him the victim of an easy tag-out. Apparently, no one told Mike that you are suppose to slide or "fall down" into second base, not past the bag.
The incident happened so fast that he team photographer Richard Moffitt was unable to snap a photo. "He's on the ground already?" proclaimed Moffitt. "I really need to get my camera setup more quickly."
Later that inning, Tufts would string together 3 runs to take an early 3-0 lead. Ryan Grimard made sure that would be all they would get with a dazzling behind the head snag in left field.
Verdasys would get a run back in the second to cut the lead to 2. With two outs and the bases loaded, Kelly Raymond would sneak in an infield hit to drive in Darrell Teague. But Tufts would respond by opening the flood gates, scoring 11 times to take a commanding 14-1 lead. The infield unit struggled to find its groove, allowing Tufts extra outs and multiple scoring opportunities.
Despite the setback, Verdasys' Jerry Buote helped the team regroup in the third inning with the proclamation that "line-drive singles wins ball games. Let's do it!" The team responded with a rally to help put the team back in the game.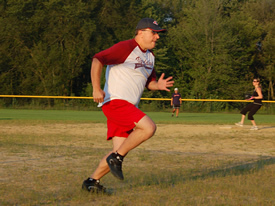 Aleskey scores his first run as a member of Verdasys Softball (Moffitt)
Colby got the third inning going with an infield single. She would advance to second on a sacrifice by Johnna and then to third on an Aleskey single. This would put runners on the corners for Mike O, who connected for an RBI single to drive in Colby. Next up is Kelly Allen, who hits a ground ball to short. Aleksey, advancing to third, avoids getting tagged by the shortstop by performing the "Russian Matrix" maneuver, forcing the fielder to erase Mike O. at second instead. Alex would later score on a Ron Smith single, Aleksey's first run as a member of the Verdasys softball team.
Jerry would then lead by example with an RBI single to drive in Kelly Allen. Ron and Jerry would score on the RBI singles by Teague and Grimard before Cornwall ended the inning with a nasty line-drive to short. In all, Verdasys would score 5 times to cut the lead 14-6.
A-WOL attempted to address the faults exhibited in the previous inning by putting Cornwall on second and Aleksey at free infielder. The move paid off and the infield would protect the recent run production with a 1-3-4 inning.
Top of four, Verdasys would cut the lead to 14-7 after Elliot hits an infield single to drive home Steven Bergstein. Additional runs were not had as Tuffs made a terrific bang-bang double play. With Kelly Raymond on second, Colby hammered a line drive to the left of second. The ball was caught by a Tuffs fielder, who then immediately tossed the ball to second. With Kelly Raymond off the base, she was doubled-up at second to end the inning.
Tufts would get back two runs in the bottom half of the inning to make it a 16-7 contest. Ron helped keep the scoring in check with a behind the head line drive snag at third. Eno contributed by catching a hard liner into center field. A-WOL, on the other hand, made a pathetic miss of a towering pop-up in shallow left field. "The ball was drifting back on me, so I continued to back up. However, I heard Elliott moving behind me so I stopped. I then lost the ball in the sun and took a defensive posture." Excuses.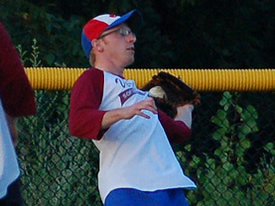 Eno regains his outfield mojo with one of many great outfield catches (Moffitt)
The fifth and sixth innings would feature great fielding from both teams, keeping both teams scoreless. Tufts would go down 2-3-4 in the fifth, highlighted by Eno with a catch into left field amongst fellow peers to end the inning. Tufts would go down 1-3-4 in the sixth. A-WOL redeemed himself with a slide catching of a flair into shallow left field.
And to the seventh inning we go. Trailing by 9 and down to their last out, A-WOL attempted to get the team rallied up with the old steady hand clap routine. With rally cap on head, A-WOL steps to the plate and connects for a base hit into center field. But that would be the extent of this so-called rally as Kelly Raymond ended the inning with a 5-3 ground out to end the game.
And so if it weren't for an unfortunate second inning, Verdasys could be staring at a possible second win of the season. But lady luck would not be on the side of Verdasys as they fall to Tufts 16-7.
Postgame Show
In attendance at the "Ben-Gay Pain Relief Post Game Show" were several members of the team, including Jerry Buote who was in need of the pain reliever after pulling a quad muscle. As always, A-WOL kicked the show off with his post-game assessment.
"It's hard to look at the score and say that we played a great game. But if you replace the eleven runs that were given up in the second with say three, you would have an 8-7 game. Now you have a close ball game. And with that, you have to credit the fielding unit for only allowing a total of 5 runs in the remaining 5 innings were played."
A reporter asked A-WOL about the fielder move in the third inning.
"When not playing in the infield together, Colby and Kelly can play their positions well. But for some reason, when the two of them are out on the infield together, they seem to get in the way of each other. My strategy for the remainder of the game was to rotate them into the game so the two would not play the infield at the same time."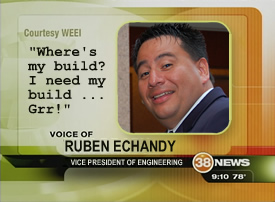 Ruben puts an end to the post game festivities (WSBK)
Steven Bergstein followed-up with a discussion about 'disturbing photographs of A-WOL'. "A-WOL claims that the 'Super Andrew Brothers' photo is the most disturbing photo of him. I think what he meant to say was that it was the most disturbing photograph of him, on the internet! I'm sure he has far worse photographs of him at home."
Aleksey later chimed in and mentioned how the players for Tufts did not have any uniforms. "I felt bad playing against them," said Aleskey. "I thought they were poor and could not afford their own t-shirts. Therefore, I would have felt bad if we beat them."
Ruben Echandy forced an early end of the show by calling in and ordering everyone back to work. "Guys, where's my build? I need my build! No postgame show without handing me my build. Grrr!"
Web Gems
Grimard: behind the head running catch in deep left field (1st)
Bergstein: Line-drive stop at short (2nd)
Ron Smith: behind the head line-drive snag along the line at third (4th)
Eno: behind the head catch of a hard liner into center field (4th)
Eno: catches a flair into left field amongst traffic (5th)
A-WOL: sliding catch of a flair into shallow left field (6th)
Cornwall: line-drive block at second (6th)
Big Bats
Mike O: 3 for 3 with an RBI.
Darrell Teague: 2 for 3 with an RBI and a run scored.
Aleksey Kireyev: 2 for 2 with a run scored, his first run of the season.
Game Photos | Stats from the Game | Scorebook