Game 8: All-Star Exhibition




Verdasys tries to hold their own against the Dominican All-Stars




By Andrew Wolan / WRCS

Game date: Aug 13, 2008


<!BR> Score Box

| | | | | | | | | | | | |
| --- | --- | --- | --- | --- | --- | --- | --- | --- | --- | --- | --- |
| Verdasys | 0 | 2 | 0 | 0 | 0 | 2 | 4 | | 8 | 18 | 0 |
| Newmark Knight Frank | 7 | 11 | 0 | 5 | 0 | 0 | 0 | | 23 | X | 5+ |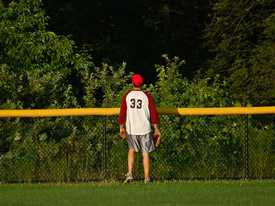 All Muldoon can do is watch as another NKF home run clears the field (Moffitt)
Introduction
Thanks to Mother Nature, (and perhaps from some rain dancing by Ruben,) three of the clubs regular season games were postponed due to rain. Now with the regular season schedule complete, the team enters a new season: the makeup mini-season. Verdasys will be kicking-off this mini-season going-up against the undefeated "Newmark Knight Frank" (NKF).
But if scouting reports are correct, Verdasys will be going up against a team with the likes that neither they nor team skipper A-WOL have come across before. Reports indicate that several members of the NKF ballclub are All-Star caliber players from the triple-A baseball league.
With that said, will A-WOL be able to lead his team over overcoming odds or will the team become victim of the "mercy rule" for the first time this season?
Game Summary
Making their career start with the team was Ajeet Bhoyar. Ajeet has come-out of retirement to help the team in its run up to the playoffs.
NKF would strike first with seven runs in the first inning. The inning was capped by a grand slam that was hit out of the Veterans Memorial Athletic Complex and onto Trapelo Road. 7-0 NKF after one.
Verdasys with get two back in the second thanks to a 2-RBI single by Darrell Teague. Dharmender would later claim his first base-hit as a member of Verdasys Softball in the inning as well.
Second inning, more offensive fireworks from NKF as they scored 11 times off of three homeruns to take a 18-2 lead. One of the homerun balls was reported to have landed on Route 2 in Lexington by the Massachusetts State Police. NKF also managed to frustrate the Verdasys outfield unit by scattering base-hits through-out the outfield.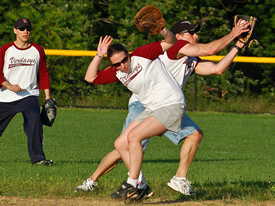 Cornwall and Smith nearly avoid a collision as Ron snags an infield fly in the third (Moffitt)
A-WOL got things going in the third by narrowly extending an overthrow to first into a one-out double. Mike O would advance him to third with an infield single. Kelly Allen follows with a rip into center field, but was robbed of a base hit thanks to some efficient outfielding by NKF. A-WOL, in a rare base-running hiccup, failed to score on this play.
So, A-WOL, what happened?
"Whenever a ball is hit into the outfield, my sub-conscious reaction is to ensure I do not hold up a [base] runner behind me. I accomplish this feat using my speed and by being aggressive on the base-paths. In this case, I got too aggressive and stood off of third when I should not have. Since the ball was not hit far enough, and because the outfielder had a great arm, I had no chance to tag-up and try to score. Simply put, I screwed up."
Jerry would later ground out, ending his at-bat hitting steak at 9.
The Verdasys infield unit finally found its grove in the bottom half of the third, forcing NKF to go down in order. In fact, this was the first 1-2-3 inning for Verdasys all season. 18-2 after three.
NKF lit-off some more fireworks in the fourth with a blast into the trees in center field. The ball cleared the trees and struck a bald eagle nest several rows in. Apparently, the EPA must have the nest monitored as the incident drew an immediate response from not only the EPA, but from several non-profit endangered species groups as well. After about 10 minutes of questioning, NKF was issued a citation for "Endangering an endangered species."
Anonymous> Endangered? I though the bald eagle came off the "endangered species list" a few year back?
Wolan> Quiet, I'm writing the game summary.
Verdasys would keep the score 23-2 thanks again to some solid in fielding in the fifth.
Now a riddle: what would impress Jerry Buote so much that he would walk all the way to first base and offer to base coach for someone? Well, apparent Ajeet Bhoyar knows, as he got the sixth inning going with the "Flintstone Slam" base hit, his first as a member of Verdasys. A-WOL would follow Ajeet's lead with a hit of his own into center field, good enough for a triple. Ajeet, running for his life upon A-WOL's command, rounded the bases and scored on a questionable play at the plate.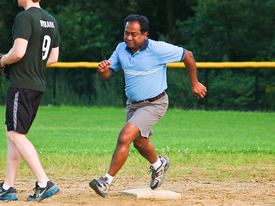 Ajeet rounds seconds on his way to score on an A-WOL triple in the 6th (Moffitt)
Initially, Ajeet was called out at the plate. However, after an official video review between innings, it was determined that two NKF fielders had inadvertently obstructed Ajeet's running lane to home plate. As a consolation, Ajeet was declared "safe" thus awarding Verdasys a run and an extra out for the seventh.
Mike O would bat-in A-WOL with his team leading 15th base hit of the season, making the score 23-6 NKF. Kelly would end the inning by getting robbed again of a solid base hit in center field.
NKF would make things interesting in the bottom half of the inning, but would fail to net a run as the infield unit kept things in check. Ajeet made his first force out as a member of the team to end the inning.
And so we head to the seventh inning. With Verdasys staring head-on to a 17-run deficit, attempting a win seemed futile. But despite the odds, Jerry Buote managed to fire-up the team (and perhaps frighten the other team in the process) with a little inspiration speech. "We're only down by a million runs" proclaimed Jerry. "We can still win this thing!"
With rally cap on head, Jerry chose to lead by example by kicking off the inning with an outfield single. Ron followed suit with an RBI triple to score Jerry. Don Muldoon got out of his in-game slump with an infield RBI single to score Ron.
Darrell Teague would join the fun with an RBI single to score Ryan Huynh, as too would Johnna with an RBI sacrifice to score Liz Cornwall. Alex would hit into a tough double play to end the inning as his rocket line-drive was caught by the NKF second baseman. The fielder would then doubled-up Darrell for being off the bag to end the game.
So in the game that witnessed the explosive fireworks of the Dominican all-stars, Verdasys managed to hold their own for a respectable 23-8 lose to NKF.
Postgame Show
In attendance from the team for the "Watch City Brewery Post-Game Show" were Darrell Teague and team skipper A-WOL. Due to team union restrictions, Darrel was not allowed to be on camera, so the audience was forced to look at A-WOL the entire time as the two spoke with the occasional clip from the game.
As always, A-WOL got the show started with his analysis of the game:
"From past experience, I know that it can be discouraging to play against a team that can hit and field the ball as well at NKF. Heck, in the past, I've seen guys give up and stop trying. However, our players never gave-up and played a full 7-innings, which to me was something I was delighted to see. We even managed to pull ourselves together and managed to shut down our opponents in three innings, which says a lot. When you put everything in context, I feel our team played well."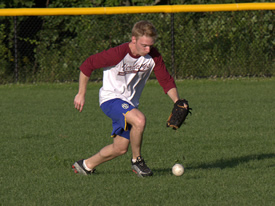 Despite a bad outing, coach A-WOL remains confident on Eno's outfielding abilities (Efimov)

When asked about Elliot Eno's rough day it the outfield, A-WOL had this to say: "Without a doubt, Elliot had trouble. Guys were hitting the ball harder and further than any other team had done this season. Simply put, Elliott was seeing hits that he had not seen all season and thus had trouble adapting. Overall, I think he's a solid outfielder and we'll continue to use him [in the outfield]."

Darrell Teague focused his discussions on the positive aspects of the game. "Even though we had a tough game, I feel the team should focus on the positive aspects of the game. First of all, no-one on our team struck out as everyone made contact with the ball. Second, as good as the other team was, we managed to shut them out in three innings of play, which is impressive. Third, Mike OConnor did not fall down onto the ground once during the game. And finally, our team is in the playoffs!"

Indeed, after the game had been played, it was announced that the Verdasys Softball had qualified for the play-offs. No additional information about the playoffs was released during the evening other than the fact that the team was excited to hear the news after the game.

Web Gems


1-2-3 inning in 3rd - first for Verdasys team this season
Ron Smith: infield fly catch while avoiding traffic.


Big Bats


Mike O: 3 for 3 with an RBI.
Darrell Teague: 2 for 3 with 3 RBIs.
Ryan Huynh: 2 for 3 with 2 run scored.
Liz Cornwall: 2 for 3 (2B) with 2 runs scored.


I-Team Special Investigation


Following the game, I-Team investigative reporter Darrell Teague did some undercover work to see just how high up the triple-A food chain the players on the team were. Here is what Darrell had to report:

"During my investigation, I discovered that three of the players were/are recently on a AAA (professional) baseball team. Several of them also play together in a fast-pitch competitive softball league. Many played together growing up and even boasted to training with a couple of major leaguers before they were stars a couple years back. Suffice to say that there is a reason why they are undefeated in this league…"

The question on everyone' mind now is how will A-WOL respond to this recent discovery? Will A-WOL contact the league commissioner and file a %$ @

+++-

Don> Ok Andy that's enough.
Wolan> Don? How did you get in my game summary?
Don> Magic. Now please just drop the subject and move on.
Wolan> But this is my game summary.
Don> No one cares about how over-matched we were. Just let it go before I end the game summary for you.
Wolan> You wouldn't dare.
Don> I would

EOF

Game Photos | Stats from the Game | Scorebook