Game 5: Mother Nature Proves Supreme




Thunderstorms postpone yet another game




By Andrew Wolan / WRCS

Game date: July 23, 2008


<!BR> Score Box

| | | | | | | | | | | | |
| --- | --- | --- | --- | --- | --- | --- | --- | --- | --- | --- | --- |
| Thermo Fisher Scientific | X | X | X | X | X | X | X | | X | X | X |
| Verdasys | X | X | X | X | X | X | X | | X | X | X |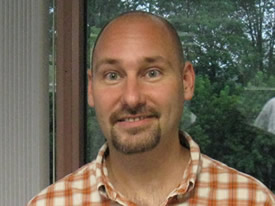 Team fan David Visconte is shocked to hear that the game may NOT be rescheduled (Wolan)
Summary
Game 5 was promoted as "The Battle for Wyman Street Supremacy" as Exit 28-end Verdasys Softball was to go up against Exit 27-end Thermal Fisher Scientific. The winner of the match-up not only gets a "W", but regional bragging rights as well.
But Mother Nature would intervene, proving once again who was truly supreme. Two hours before game time, (and after a rumored rain dance by Ruben Echandy,) a strong line of thunderstorms moved into the area, darkening the sky, drenching the area and even cutting power to Verdasys Softball HQ.
When asked if the game would be canceled, team captain Audrey Markoff responded, "I am not calling to check to see if the game is canceled: it's raining, there is lightning and the field is soaked. I am pretty sure the game will be postponed."
The game was indeed postponed, making it the third for Verdasys Softball this season. In fact, the team has had more rain-outs than games played at the half-way point. While this is a very unusual record, it does hint at a serious problem for the league.
"It has been a season like no other in terms of rain-outs," commented league commissioner Anna Connelly. Because of the wet weather, the league has had to postpone more games then planned. In fact, so many games have been rained-out that there might not be enough time to make all of them up. This had lead to speculation that some make-up games will be canceled altogether. "We are all ready so far behind, there won't be any extra days if we want to hold playoffs this year."
As of this writing, there is no official word on weather today's game will be rescheduled or canceled.
Game Photos & Audio Clips