Game 4: Photo Finish




Team can't hold the lead in yet another nail biter




By Andrew Wolan / WRCS

Game date: July 17, 2008


<!BR> Score Box

| | | | | | | | | | | | |
| --- | --- | --- | --- | --- | --- | --- | --- | --- | --- | --- | --- |
| Verdasys | 0 | 4 | 0 | 21 | 1 | 1 | 3 | | 11 | 24 | 0 |
| Racepoint Group | 2 | 2 | 0 | 1 | 1 | 2 | 3 | | 112 | X | 0 |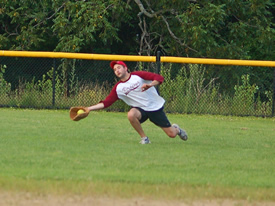 Muldoon makes a sensational diving catch to end the third (Moffitt)
Introduction
Despite scorching hot and sunny playing conditions, the Verdasys Softball club was "psyched" to play game 4 of their regular season against Racepoint Group. The team will be looking for their first win of the season after come-up short in their last match-up. Will the team be able to convert their enthusiasm with a win? And will the game once again end in a photo finish?
Game Summary
Sometimes it helps to just pay attention. Top of one, Ryan Huynh and Liz Cornwall get the inning going with back to back singles. Mike O'Connor follows with a ground ball to short. What should have only been a force out of Liz at second turns into a double play as Ryan Huynh is caught napping and tagged out while standing on second.
"I had a brain fart" commented Huynh. "For some reason, I didn't think I had to run!" Racepoint Group would capitalize and take a quick 2-0 lead after one.
Second inning, Verdasys would load the bases for Ron Smith, who connects for a double, driving in Ryan Grimard and A-WOL. Elliot would then drive in Nicole on a single to give Verdasys the lead. Aleksey Kireyev, making his American softball debut, would contribute to the rally by hitting in Ron to make it a 4-2 game.
The rally was cut short by a double play involving, once again, Ryan Huynh. With Aleksey on first, Ryan would smack a fly ball to center field for the second out of the inning. Aleksey, inexperienced in base running, was doubled-up to end the inning.
Racepoint would score two in their half of the inning, making ot 4-all after 2.
With the third inning came a reenactment of Doug Mirabelli dramatic return to Boston Red Sox in 2006. This time, the Verdays Softball club welcomed Sam to the game. Sam had just flown in from Oregon to Boston's Logan International Airport and was escorted to the game by Audrey Markoff.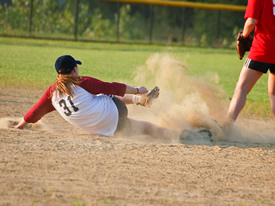 Elizabeth makes a hard slide into second, fracturing her right ankle (Moffitt)
Racepoint Group welcomed him with a line-drive to short, which Sam caught for the opening out of the inning. Not to be out-done, Don Muldoon would make his presence felt by making a sensational driving grab in center field to end the inning. After three, we are still tied 4-all.
Verdasys would get a run in the fourth thanks to an RBI single by the new fan favorite Aleksey Kireyev. Racepoint would get that run back but nothing more thanks to some glove work by Verdasys. On a grounder to the mound, Nicole would beat a speed Racepoint Group batter for the force out at first. Ryan Huynh would contribute with a nice line-drive snag at short. 5-5 after four.
Both teams would score a run in the fifth to make it 6 all. A scary moment occurred in the inning for Elizabeth. While sliding to second base, Liz mistimed her slide and landed on the bag, injuring her left ankle in the process. Though in pain, Liz remained in the game, assuming the injury was just a sprain.
The Verdasys infield missed-out on a double play opportunity in the fifth inning as well. With a runner on second, Ron would catch a bloop fly ball near third. The runner inadvertently advanced to third and had to retreat. However, Ron overthrew the ball to second, allowing the runner enough time to retreat. The infield would not fail to convert in the sixth.
For once, Ryan Huynh would finally be on the business end of a double-play. With a runner on first, Ryan would catch a pop-up near short for the out. With the base-runner napping and off base, Ryan would capitalize with a force out at first, resulting in the team's first double play of the season. However, this great play came after Racepoint Group was able to score 2 runs to take an 8-7 lead.
And so to seventh we go. Behind a run and down to their last out, Ryan Huynh steps-up to the plate and connects for a clutch bloop double into right field. Liz would follow suit with her own clutch bloop infield double to score Ryan, tying the game. But Verdasys was not done. Mike O would hit a single to put runners on the corners for Mark Morley, who connects for an outfield hit, driving in Liz. Ryan Grimard would drive-in Mike O to give Verdasys a 2 run lead.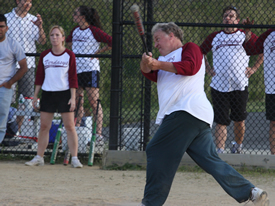 Mark Morley makes a clutch hit to give the team the lead in the seventh (Moffitt)
Up by two runs, the Verdasys Softball looks poised to capture their first win of the season. But it wouldn't be so. Racepoint Group gets two quick hits to put runners on first and second. Next batter hits a ground ball to Ryan Huynh near first. For whatever reason, Ryan forgets to tag second for the force out and throws the ball to third. The ball is overthrown allowing Racepoint the lead runner to score.
"I was trying to go for the double play" said Huynh after the game. "Instead, I got nothing."
The next batter hits a rocket grounder to Nicole covering the mound. The ball hit the palm of her glove and hyper-extended her wrist, injuring her in the process. Though in some pain, she choose to stay in the game.
Racepoint would load the bases and score two more times to win the game. Once again, Verdasys Softball played a close game that was neck and neck down the stretch. But in the end, it was Racepoint Group winning in a photo finish 11-10.
Post Game Reaction
Following the game, most of the team attended the "Veterans Field LIVE" postgame show. Team skipper A-WOL mentioned that the team was "understandability dismayed" over the lose, adding "it was a game we felt we should have won, but we didn't." A-WOL also commented that by the final inning of play, the team was exhausted. "Many of our guys were worn out. For our next game, I will seriously consider rotating players in and out of the game, giving them rest between innings."
When asked about the game, Naren Patel commented "This was fun. I should come again."
The show ended with a discussion between Grimard, Don and Mike O as to who was the best hitter on the team.
Scoring Error
After the game, it was discovered that a scoring error had been made. In the fourth inning, Nicole scored a run on an RBI single by Ron. However, the run was not recorded and went unnoticed for the duration of the game. This means that the game actually ended in a 11-11 tie.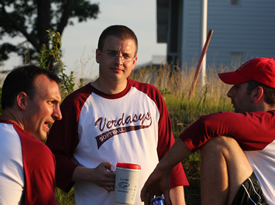 Mike OConnor looks on as Grimard and Muldoon argue who's a better hitter (Efimov)

When asked if the team would contest the games outcome based on the findings, A-WOL commented that the team would not. "[Racepoint Group] ended the game with the bases loaded and no-one out. All they need to do is score one run… the odds are overwhelmingly in their favor."

Injury Update


The injury Elizbeth Cornwall sustained in the fifth inning was actually more severe than anyone had expected. Even though Elizabeth was able to jog home after the game, X-Rays images show that she had fractured her left ankle. As result, Elizabeth is expected to be out for the remainder of the season as she heals from the injury.

As for Nicole, her wrist was fine the following day, noting her wrist was not sore and that her palm only had a slight bruise on it.

Finally, rumors are circulating that Mike OConnor injured the palm on his left hand at the game as well. The team had no comment on this matter.

Web Gems

Sam: line-drive snag at short in the third.
Muldoon: diving catch in center field to end the third inning
Nicole Kelly: force out at first to erase a speedy batter in the fourth.
Huynh: live-drive snag at short in the fourth.
Huynh: double play in the sixth. First for team this season.
Morley: was able to catch or block every throw to first, preventing overthrown balls.


Big Bats

Don Muldoon: 3 for 3 (3-2B) with 3 runs scored.
Ron Smith: 2 for 2 (2B, SAC) with 4 RBIs and 1 run scored.
Elizabeth Cornwall: 2 for 4 (2B) with an RBI and 1 run scored.


Stone-Cold Creamery "Brain Freeze" of the Game

Ryan Huynh standing on second base as a ground ball was hit to short. His "brain freeze" led to a double play.


<!BR> 1 = Two runs were scored in this inning. Only one was was recorded.
2 = Though game ended in tie, Verdasys Softball does not contest defeat.




Game Photos & Audio Clips | Stats from the Game | Scorebook