Game 3: Season Opener … Finally!




Team finally takes the field after weathering back-to-back postponements




By Andrew Wolan / WRCS

Game date: July 7, 2008


<!BR> Score Box

| | | | | | | | | | | | |
| --- | --- | --- | --- | --- | --- | --- | --- | --- | --- | --- | --- |
| Up To Date | 0 | 0 | 5 | 3 | 3 | 3 | 4 | | 18 | X | 2 |
| Verdasys | 0 | 1 | 0 | 3 | 1 | 7 | 2 | | 14 | 18 | 2 |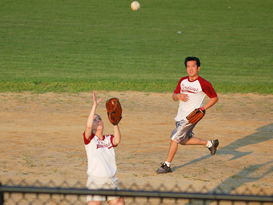 Ryan H. looks on as Nicole catches a pop-fly to end the 6th (Moffitt)
Introduction
The start of the Verdasys Softball season was a soggy one, as afternoon thunderstorms force the postponement of their first two games. The weather for today's match-up would be the opposite, as Mother Nature treated the team with sunny and humid weather.
As the team prepared for their opponents "Up to Date", the question on everyone's mind was simple: how would the team perform after missing their first two regular season games and coming into the today contest without holding a single practice session together? The skeptics would have their answer quickly.
Game Summary
Top of the first inning with a runner on first, "Up to Date" slapped a ground ball past Ron Smith down the third base line. On a play that looked like trouble for Verdasys, the lead base runner attempted to capitalize by advancing to third. However, Don Muldoon, who was playing left field, quickly fielded the ball and rifled it back to third for the assist. Ron applied the tag on the runner with two steps to spare, netting Don an outfield assist and keeping the inning scoreless.
Second inning, more great heads-up defense by Verdasys. After the ball was overthrown to first, the base runner attempted to advance to third. Elizabeth Cornwall, who was playing first, managed to quickly field the ball and toss it back to second. Ryan Grimard, who was covering second, got the ball as the base runner was several steps away from second, putting the base runner in a pickle. Both Elizabeth and Ryan would ultimately complete the play as the base runner attempted to retreat to first. "Up to Date" would end the inning scoreless after Ryan Huynh made a sensational stop at second to throw-out the runner at first.
Verdasys would get on the board first in the bottom half of the second inning. With runner on second and third, Kelly Raymond would cash in Mike O'Conner with an infield sacrifice to make it 1-0 Verdasys.
However, "Up to Date" would rally back in the third, hitting two "inside the park" (ITP) homeruns and rack-up five runs. "Our outfield unit not positioned correctly that inning," comment A-WOL after the game. "They were playing far too aggressive. (Close to the infield.) The other team took advantage by hitting the ball over our outfielders, netting some easy ITP HR's. This was a simple fielder location miscommunication on my part."
Verdasys would go down scoreless in the third. A-WOL made a cheap infield hit that traveled a distance of two inches from home plate.
Top of four, "Up to Date" would scratch together three more runs to take an 8-1 lead. It would have been more if it weren't for another flash of Verdasys's defensive strut. As a base runner rounded third and attempt to score on an outfield hit, a throw was made to Darrell Teague playing catcher. Once again, the player was caught several steps from home and was caught in a pickle. Darrell easily tagged the runner out, preventing a run from scoring.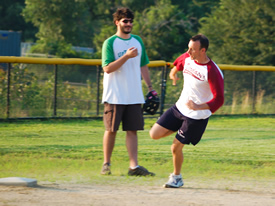 Ryan G. rounds third on his way to an ITP HR (Moffitt)
Verdasys would match their opponent's run production with 3 of their own to keep the game close at 8-4 "Up to Date". Ryan Huynh and Ron Smith got the inning going with back to back singles. Ryan H. would score off a Don Muldoon double and Ron on an Elizabeth Cornwall infield sacrifice. Don would later score on a Mike O'Connor single.
Top of five, "Up to Date" got the bases loaded early and managed to score three runs off of some misplays by the infield. "This is where a lack of practice came back to bite us" commented A-WOL. "Our players, especially Ryan Huynh, made some great stops on ground balls. However, we had trouble completing the play by tossing the ball to the proper bag for the out. This is something that can be worked on fairly easily, so I'm not worried about this. After all, our players almost converted a double play that inning!"
"Up to Date" would score 3 more in the sixth to make it 14-5. But Verdasys would battle back in their half of the sixth. Elliot Eno and Nicole Kelly got the inning start with back-to-back singles. Elliot would score on Ryan Huynh single. Both Nicole and Ryan H. would score off another Don Muldoon double. Following a single by Elizabeth Cornwall, Don would score on single by Mike O. The inning would be topped by a three-run ITP HR by Ryan Grimard. In all, the team scored seven times rallied back to cut the lead 14-12.
In the seventh, it appeared that Verdasys would hold that score. With two outs and a runner on first, Ryan G. gets a ground ball to short. However, he overthrows the ball to first, thus keeping the inning alive. "Dam it! I keep overthrowing the ball" stated Ryan after the play. "Up to Date" would take advantage of the misplay and rally for 4 runs, stretching their lead to 18-12.
In their last at bats, Kim Reynolds started the inning off with an infield single. This was followed by a shot down the left field line by A-WOL, who converted it into a 2-run ITP HR. Andy celebrated the score by jumping on the fence near home plate. "That play was big" said A-WOL after the game. "It told the other team that we not going to roll-over and would continue to fight."
Unfortunately, the rest of the line-up did not have as much luck and went down in order to end the game. So despite missing their first two game of the season, the Verdasys Softball club managed to play a close game, losing 18-14.

A-WOL fielding questions during the Watch City Brew Post-Game Show" (Gawade)
Postgame analysis
Following the game, several team members appeared on the "Watch City Brew Post-Game Show". Those in attendance from the team were team captain Audrey Markoff, team skipper A-WOL and team players Don Muldoon, Ryan Grimard, and Mike O'Connor. When questioned about the team's performance, A-WOL had this to say:
"I can honestly state that I was pleasantly surprised by our performance Monday afternoon. For a team that had not practiced or played together once this season, I have to say we played an incredible game." A-WOL went on to say that he was happy to see the team battle on and not give up despite the score or physical exhaustion. "I've played on teams whose players just quit trying once things start to get ugly. This team kept fighting and kept the game close."
"Ultimately, the outcome of the game was decided by which team could make the most plays and gave-up the fewest extra outs. I'm sure you can find many such examples in the game that would have tipped the outcome. With a little work, I feel we can turn the tables of such games in the future."
When asked about the organization of the game, Don, Ryan and Audrey commented that in future games, the batting and fielding line-ups need to be formed before the game. "People were getting confused as to who was supposed to bat next or who should play at what position" comment Audrey. "We need to take care of such matters before the game."
All guests agreed that the game was well played, close, and above all, fun.
Web-Gems:
Numerous stops at second by Ryan Huynh
Outfield assist by Don Muldoon in first inning
Pickle executed by Ryan Grimard and Elizabeth Cornwall in second
Runner tagged-out at home by Darrell Teague in fourth inning
Big Bats:
Ryan Grimard: 2 for 3 (2B, ITP HR) with 3 RBIs and 1 run scored
Don Muldoon: 2 for 3 (2-2B) with 3 RBIs and 2 runs scored
A-WOL: 3 for 3 (ITP HR) with 3 RBIs and 1 run scored
Mike O: 3 for 3 with 2 RBIs and 2 runs scored
Game Photos & Audio Clips | Stats from the Game | Scorebook