Game 2: Rain Rain Go Away
Team will have to wait yet again to kick-off the season
By Andrew Wolan / WRCS
Game date: July 2, 2008
Score Box
| | | | | | | | | | | | |
| --- | --- | --- | --- | --- | --- | --- | --- | --- | --- | --- | --- |
| Tufts Health Plan Corp. | X | X | X | X | X | X | X | | X | X | X |
| Verdasys | X | X | X | X | X | X | X | | X | X | X |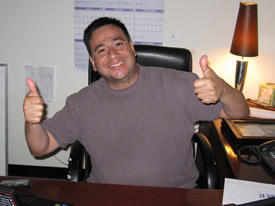 Ruben is delighted to hear that he won't be missing the game due to heavy a work load. (Wolan)
Summary
After rains postponed the start of their regular season, the Verdasys Softball was eager to get their season on the way. But once again, Mother Nature would intervene by soaking the area with waves of scattered thunderstorms through-out the day.
Despite these showers, the weather in and around the Waltham area started to clear before game time. This spurred hope that the team would finally get to play a game, albeit soggy field conditions. But it was not enough as the game was ultimately postponed an hour before game time.
According to team captain Audrey Markoff, "The league said that the game had to be called off due to threat of thunderstorms". She later commented that the game would be made-up at the end of the regular season.
The teams' reaction to the news was disbelief. "This should have been a game-time decision" comment Elliot Eno. "There is a good chance that we won't get hit by a passing shower." While radar images of the area after game-time supported this prediction, the league apparently chose to side with caution.
When asked about the impact of the cancelation, Ruben commented by saying "I'm actually quite happy that we are not playing. I honestly don't have time to play today." After getting a buzz from his cellular phone, he later said "Now if you excuse me, I need to take this call. Now go take your little photo and get out."
The team will try to get their season going once again next week in third regularly scheduled game of the season. They say third times a charm...
Game Photos & Audio Clips | <!a href="../stats/game_02_stats.gif">Stats from the Game | Scorebook