Game 1: Washout
An untimely thunderstorm postpones game and start of regular season
By Andrew Wolan / WRCS
Game date: June 24, 2008
Score Box
| | | | | | | | | | | | |
| --- | --- | --- | --- | --- | --- | --- | --- | --- | --- | --- | --- |
| Newmark, Knight, Frank | X | X | X | X | X | X | X | | X | X | X |
| Verdasys | X | X | X | X | X | X | X | | X | X | X |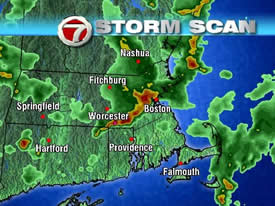 Radar shows severity of storm. (WHDH)
Summary
What was supposed to be the start of Verdasys Softball season quickly became an unfortunate washout. Through-out the day, the New England area was inundated with scattered thunderstorms. The greater Waltham area was fortunate enough to dodge these storms. But their luck would run out.
Around two hours before game time, a strong thunderstorm moved into the area. With it came heavy rain that soaked any field in its wake.
The rain would continue until an hour before game time, which is also when the captains of both team need to make a "play" or "no play" decision. Both teams came to the agreement that even though the rains were predicted to taper off shortly, the fields would be too wet to play on. (As shown here.) Therefore it would be best to postpone the match-up for another day.
The Verdasys Softball team now looks ahead to game 2 in hopes of kicking off the season.
Game Photos & Audio Clips | <!a href="../stats/game_01_stats.gif">Stats from the Game | <!a href="../media/game_01/scorebook.JPG" class="mwMore">Scorebook